When thinking of moms I admire for their ability to "do it all," Melody Brandon is one near the top of the list. She partners with her own mom to run multiple, incredibly successful and beautiful dessert shops down in Southern California, and keeps herself and her darling baby girl looking stylish and put-together while doing so.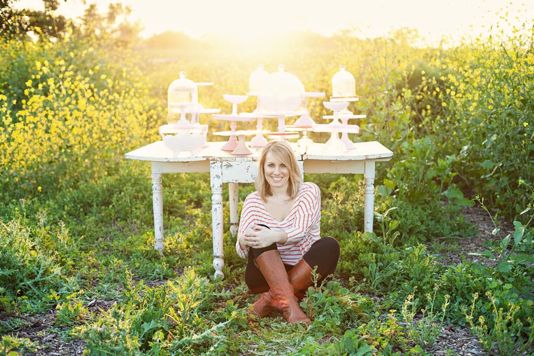 What motivated you to start Sweet & Saucy Shop?
I found I had a passion for desserts and creating special moments for people around food. I didn't really think I would ever start my business so young, but I felt that the only way I could grow and learn as much as I wanted was to start my own business and create the type of product and experience I wanted to give people.
What is your favorite sweet that you make?
Anything in mini form! I have always been the person who likes to try a bite off everyone's plate, so when I make desserts I always prefer to make them in mini sizes. It allows me to try multiple bites of a variety of desserts and not feel guilty!
What parts of your business make you most proud?
It's the little moments that mean a lot to me- like when I get a letter or email from a client telling me how much they enjoyed their cake or dessert, or when I meet with a client and see their eyes light up while chatting about the various options, and of course I love when my employees are happy and enjoy what they are doing. It makes me proud to have created a workplace that people enjoy!
What is your favorite thing to make in the kitchen?
A really good chocolate chip cookie... warm out of the oven... nothing much can beat that!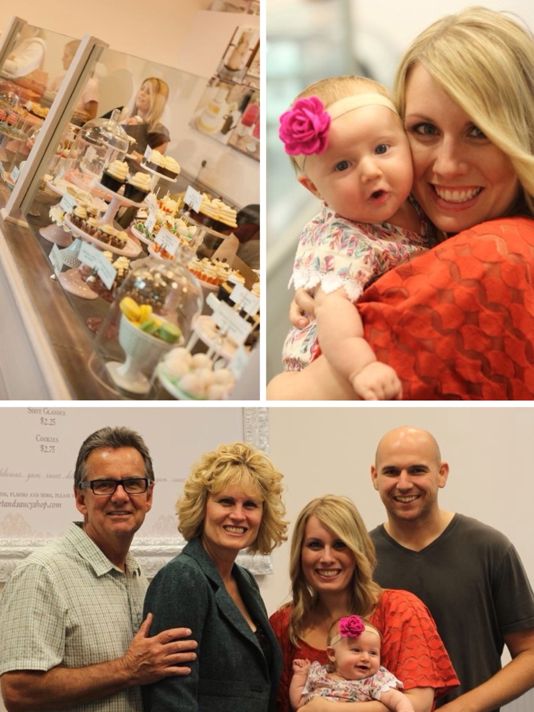 What is your favorite time of the day?
I love waking up with Blake in the mornings. She sleeps with us most nights in our bed, and being able to wake to a smiling face, chubby cheeks, and tons of snuggles never gets old!
When are you most content?
When I am hanging out with family, enjoying a day off. I love simple things like going on morning walks, reading books to Blake, and eating delicious food with people I love.
What are your favorite personality traits of Blake?
I love how happy she is all the time! She came out of the womb a happy, easy baby, and she still is today (except when teething, haha). She is so friendly with people. She's also adventurous... always on the move and up to explore everything... a trait her dad is very happy about!
What is your ideal date?
Anything geared around delicious food! I love trying new restaurants and exploring a city through their little mom and pop shops. I also love flea markets and farmer's markets.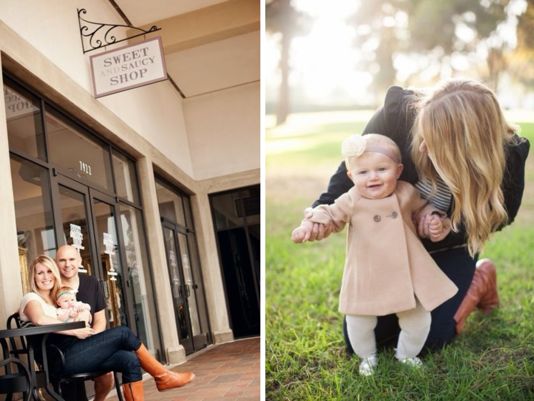 What are your favorite beauty brands & shops?
For myself, I basically want everything from Anthropologie stores! Lately I've been finding that I love shopping for baby clothes almost more than for myself... haha. I love BabyZara, Giltgroupe.com sales, Baby Gap, and Old Navy has surprised me with some pretty cute baby options!
What is your favorite Etsy shop?
I am obsessed with my sister's Etsy shop SaraRaeShop. I basically have one of her headbands on Blake at all times!
What have you learned about balancing life and work?
I have learned that nothing is as important as my baby girl and being with family, so I have tried my best to merge the two! I own the bakery with my mom and dad, so I see my mom at least three days per week, and Blake comes to work with me every day. When I first started the business 4.5 years ago, I would work 80-90 hours per week, but thankfully over time I have been able to work more manageable weekly hours. I love that I can work from home some days, and go into the shop others. Having the flexibility to make my own schedule is something I cherish!