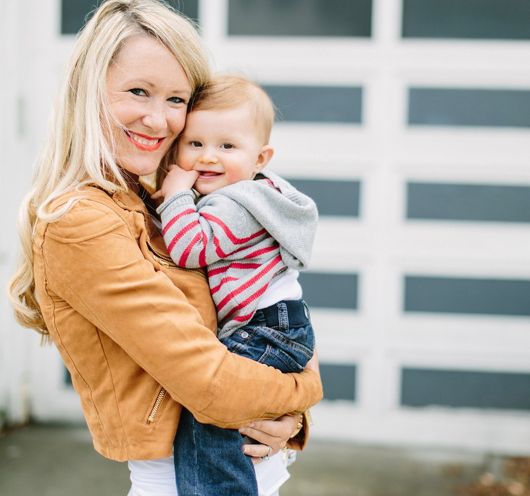 Today you get to meet Erin Taylor. She's kind of amazing, you guys. She is a stay-at-home mama who also is an event designer, runs a vintage rental company, co-created The Lab Event, and blogs when she has extra time. I've been wanting to know her secrets to success, so here you have it: Erin Taylor!
1. What are your favorite personality traits of your kids?
I have two little ones. Emma (3.5) is such a ham! Every moment of her life, she is performing. She will TALK (and talk and talk) to anyone who will listen- about anything. She is a compassionate little girl and I love watching her genuinely care about people. She'll get worried about people if they're sad or sick. Cohen (8 months) is my sweetheart. He has a smile so big, and his laughter is so wholehearted and genuine... it reminds me to let loose and enjoy everything too. I'm loving watching his personality evolve through his first year.
2. What motivated to create your first business: Bustle?
Passion! I have always been a sucker for love and I love events, so when I lost my job after having Emma, I realized I could actually make my own hours and be my own boss. It was a natural progression to bring my passion for planning events and turn it into a event design and planning company. There is nothing better than bringing couples dream day to life! I've been doing this for about four years, and I'm still excited about it.
3. What is the Lab event & how did you come up with the concept?
I've always found bridal fairs very awkward for both the brides and vendors, so I teamed up with two great girls to create the Lab Event. The Lab Event is a party, created to immerse brides into a world of inspiration. We invite amazing vendors and photographers to bring inspiration to life for brides and grooms who are looking to define their style and match up with the right people in one big place. It's so exciting to see something that started small and local become an event that will be hosted all over the country!
4. What's your favorite/least favorite part about running businesses from home while being a mother?
I absolutely love being home with my kids and not having to commute to a corporate job! That said, the balance of life and work is so difficult, and an area I will always be working to better. I have begun setting "office hours," so that work does not sneak into my family time. It's such a good feeling to be able to end my workday, tuck my kids into bed, and kick up my feet with my hubby while we share a dessert and chat about our days.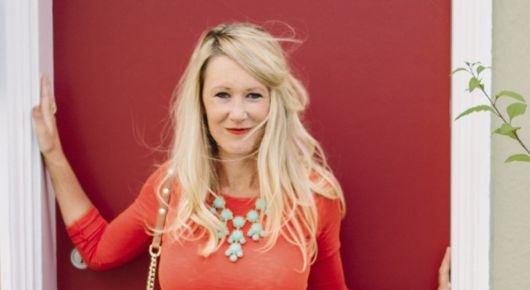 5. Favorite beauty brands and shops?
I am obsessed with Chanel and YSL lipstick at this moment! Also Khiel's shampoo and conditioner! When out shopping you will find me in Zara, Nordstrom, and Anthropologie.
6. Style uniform?
In the winter, it's my polka dot jeans, a basic top, detailed jacket, statement necklaces, boots, and my Rebecca Minkoff mini mac bag. In the summer, I love wearing skirts and summer dresses with wedges.
7. Favorite Etsy shops?
Everlylane, MoodiChic, and Knotandbow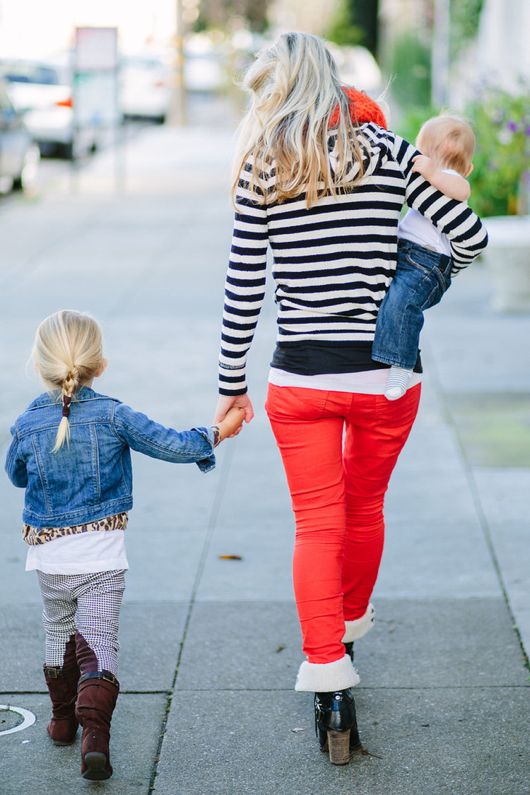 Thank you so much Erin! Thanks also to Volatile Photography for the shots!
Readers, feel free to contact us if you'd like to be a part of our Mama Profile series!
xoxo.
Kate